Chiropractic Care For Adults
Restoring balance and vitality through chiropractic care
At Thame Chiropractic Clinic, we understand that as mature individuals, your health needs may differ from other age groups. Our chiropractic care services are specifically tailored to address the unique concerns and challenges faced by adults.

Chiropractic Care For Adults In Thame
Whether you are seeking relief from chronic pain, looking to improve your overall well-being, or aiming to enhance your performance in daily activities, our experienced chiropractors are here to help. We take a holistic approach to our adult care, focusing on restoring proper spinal alignment, alleviating discomfort, and promoting optimal health. With personalised treatments and a compassionate team, we strive to provide you with the highest quality of care to support your journey toward a pain-free and active life.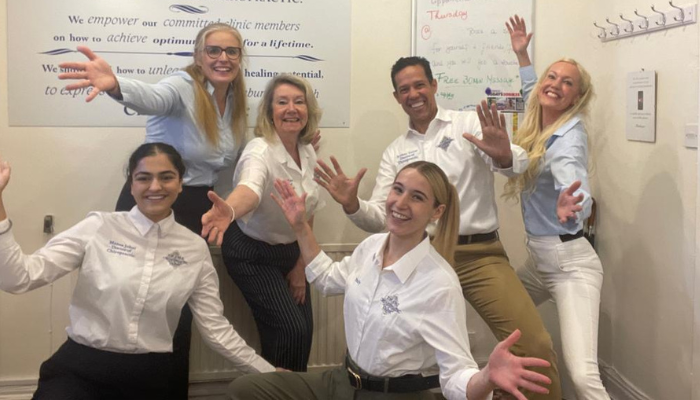 Clockwise from top left; Katya Fernandes, Heather Reynolds, Arthur Tovar, Maria Hagberg, Emily Allen, Mansa Johal
Maintain Your Health ANd Wellbeing By Seeing A Chiropractor
About Chiropractic Care for Adults and Older Adults
Aging is a natural process intrinsically linked to our lives, but there are differences between some people and others. Someone who suffers from structural problems, such as degeneration of the spinal joints, will have many secondary conditions that they would not have if that degeneration had been corrected.
We must be aware that important preventive measures must be taken to stop the most debilitating aspects of ageing. Chiropractic allows people, despite the passing of the years, to stay active. We get muscles, joints and nerves to work properly, without pain preventing us from leading a healthy life.
Comprehensive 3-year research conducted by the University of Los Angeles with people over the age of 75 has revealed a better quality of life and good general health in the elderly treated with Chiropractic. This group has been compared with another without chiropractic care, and it is clear that people in the first group show fewer health problems, can exercise regularly and have much shorter stays in hospitals.
You are never too old to receive chiropractic adjustments. Many of Thame Chiropractic Clinics older patients have seen their quality of life increase under our care. Currently, the oldest patient we care for in our practice is 91 years old.
Check your spine, you have nothing to lose.
Further Reading ON Adult Chiropractic Care