Chiropractic Care FOr Children And Babies
Building Strong Foundations for Healthy Futures
Our safe and gentle chiropractic care is designed specifically for children and babies. Nurtures growth, supports their development and enhances their well-being naturally.

Gentle Chiropractic Care for Little Ones
At Thame Chiropractic Clinic, we understand the unique needs of children and babies when it comes to their health and well-being. Our dedicated team is here to provide specialized chiropractic care that supports their growth, development, and overall vitality. With a gentle and safe approach, we address spinal imbalances and promote optimal nervous system function. By doing so, we aim to help your little ones thrive and enjoy a healthy future. Trust in our expertise and commitment to providing the highest quality care for your children and babies.
The Benefits Of Chiro For Children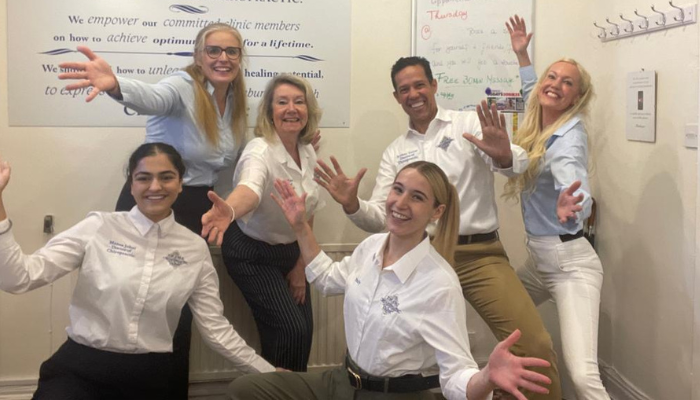 Clockwise from top left; Katya Fernandes, Heather Reynolds, Arthur Tovar, Maria Hagberg, Emily Allen, Mansa Johal
Is Chiropractic Care Safe For Children ANd Babies?
More About Chiropractic Treatment For Infants
Children deserve special attention. Problems that emerge in adulthood usually have their origin in childhood.
Often when a new patient comes to our clinic and happens to have an infant or child receiving their adjustment, the common comment is "I didn't know you treated children!" However, the spine is under stress from the moment of birth.
Babies and children are also subject to the same stresses as adults on their spines. As just as you get their teeth check at an early age their spines also should be check regularly since they too suffer with the same problems that adults develop over time.
The first stress to a Childs spine according to research is the birthing process, due to the pulling and twisting when the child is born, the use of forceps, ventouse, a fast delivery, a long delivery, etc. All of these contribute to changes in the upper cervical spine and research has shown that Chiropractic care has proved beneficial in addressing these type of stresses caused on a child spine.
In childbirth, the baby's vertebrae can lose their alignment and cause pressure on his nervous system, interfering with his body's internal communication system.
Then will come the process of crawling, walking, running, playing… All of them natural processes of life in which the child will fall over and over again.
We correct these imbalances so that they do not become the beginning of the malfunction of the child's nervous system and so that her body functions at its maximum capacity.
At Thame Chiropractic Clinic, we check your little ones to correct their imbalances and ensure an optimal and healthy future.
Further Reading ON Adult Chiropractic Care