Chiropractic Care During Pregnancy
Nurturing Your Well-being, Supporting Your Journey
Experience gentle and effective chiropractic care tailored to meet the unique needs of expectant mothers. Enhance your comfort, well-being and the health of your growing baby.

Chiropractic Care For Expectant Mothers
At Thame Chiropractic Clinic, we understand the unique and transformative journey of pregnancy. Our dedicated team of chiropractors is here to support you every step of the way. Our chiropractic care for expectant mothers is tailored to meet your specific needs, providing gentle and safe adjustments that promote optimal health for both you and your baby. Through specialized techniques and a deep understanding of prenatal care, we aim to alleviate discomfort, enhance your well-being and contribute to a smoother and more comfortable pregnancy experience. 
Chiropractic Care For Expectant Mothers
Chiropractic Care For Expectant Mothers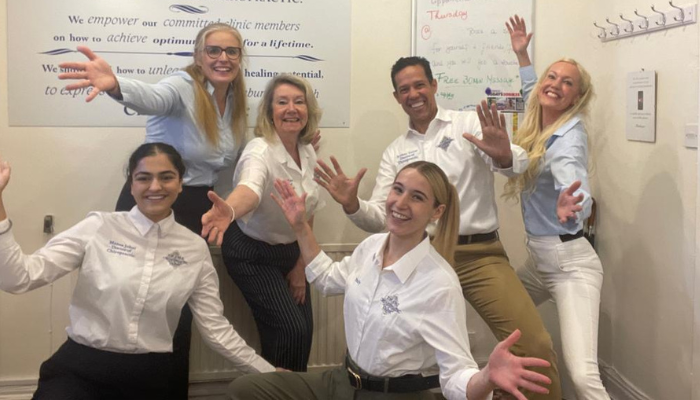 Clockwise from top left; Katya Fernandes, Heather Reynolds, Arthur Tovar, Maria Hagberg, Emily Allen, Mansa Johal
Is It Safe To See A Chiropractor When Pregnant?
More About Chiropractic Care During Pregnancy
During the nine months of pregnancy, the woman's body undergoes numerous transformations: hormonal changes, digestive changes, weight gain in joints, lax ligaments, increased stress on the skeletal system, etc.
Normally pregnant women experience back pain at some point and prefer not to take medications that could harm the foetus. They go to Chiropractic because it relieves her symptoms, mitigates her pain and without any type of medication. By normalising the functioning of her nervous system, she improves her health. Moreover balancing the pelvis and spine prior to delivery allows for an easier delivery and less trauma for the baby.
Regular chiropractic adjustments reduces the incidence of pain during childbirth and in many cases, our patients experience faster and more bearable deliveries than those prior to being treated by chiropractic.
Thame Chiropractic Clinic has tables that perfectly adjust to the morphology of pregnant women and we use sophisticated specific techniques for them.
If you are pregnant, take care of yourself and pamper yourself especially, for the sake of your baby.
Further Reading On Pregnancy Chiropractic Care