Thame Chiropractic Clinic, Oxfordshire
Gentle Chiropractic Care For All The Family
Experience safe and natural relief from common health issues like back pain, neck pain, headaches and more at Thame Chiropractic Clinic in Oxfordshire.

Welcome to Thame Chiropractic Clinic!
We are a 5-star chiropractic clinic based in Thame, Oxfordshire and we offer safe and gentle care for the whole family. We welcome adults and children of all ages and we also specialise in chiropractic care during pregnancy and taking care of babies.
If you are looking for a safe and natural solution to health problems such as: Back pain, neck pain, headaches, migraines, frozen shoulder, arm pain, shoulder pain, knee and leg pain, (Sciatica), contact us today – we'll be happy to help!
We Provide High Quality Chiropractic Care To:
Introducing The TCC Team!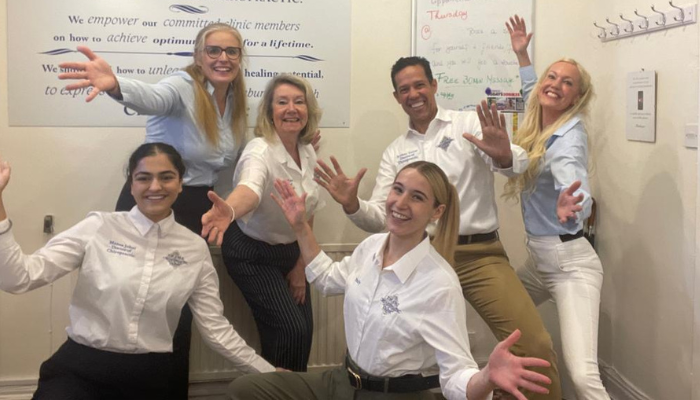 Clockwise from top left; Katya Fernandes, Heather Reynolds, Arthur Tovar, Maria Hagberg, Emily Allen, Mansa Johal
A Beginners Guide To Chiropractic Care
Frequently Asked Questions
What conditions can a chiropractor help with?
In accordance with General Chiropractic Council (GCC) guidelines, our chiropractors can help with the following conditions:
Ankle sprain (short-term management)
Cramp
Headache arising from the neck (cervicogenic)
Inability to relax
Joint pains (including hip and knee pain from osteoarthritis as an adjunct to core osteoarthritis treatments and exercise)
General, acute and chronic backache, back pain (not arising from injury or accident)
Generalised aches and pains
Lumbago
Mechanical neck pain (as opposed to neck pain following injury, i.e. whiplash)
Elbow pain and tennis elbow (lateral epicondylitis) arising from associated musculoskeletal conditions of the back and neck, but not isolated occurrences
Migraine prevention
Minor sports injuries and tensions
Muscle spasms
Plantar fasciitis (short-term management)
Rotator cuff injuries, disease or disorders
Sciatica
Shoulder complaints (dysfunction, disorders and pain)
Soft tissue disorders of the shoulder
What services does Thame Chiropractic Clinic offer?
We offer a range of services including chiropractic care for adults, athletes, children, babies, and pregnant women, massage therapy, therapy & counselling, and patient education.
What can I expect during my first visit?
During your first visit, our chiropractor will conduct a thorough examination to understand your health condition and determine the most effective treatment plan for you. This may include a physical examination, diagnostic tests, and a discussion about your health history and lifestyle.
How can I book an appointment?
You can book your first visit by calling us at 01844 212100 or by visiting our website and clicking on the "Book Your First Visit" button.
How many treatments will I need?
The number of treatments needed varies depending on the individual. Your chiropractor will discuss this with you after your initial assessment.